Raspberry::::#9900b8;;;;Grey::::#9c9c9c;;;;Black::::#000000
Relieviate Muscle Rub Sample - ONLY 1 per customer & free shipping code: SAMPLE
Relieviate Muscle Rub Sample - ONLY 1 per customer & free shipping code: SAMPLE
Limited to 1 per customer. A muscle rub containing 9 Essential oils for deep, cooling sensations on the skin. Samples we sent via standard shipping (4-7 business days).
Customer Reviews
Real reviews from real people
Customer Reviews
Write a Review
Ask a Question
Filter Reviews:
pain
products
line
muscles
word
chronic back pain
some
Chirp
review
friend
09/15/2020
Bryn
United States
It's like peppermint EO, but like if you told it to go easy in a fight
The Chirp wheels have quite literally changed my life, so i was excited to give Relieviate a try since I have had shoulder knots for about a decade. Does it feel nice? Yeah, but it's not really any different or better than the peppermint essential oil i keep on hand, and I'd imagine you would go through this much faster since lotion spreads less than oil does. It's got that cooling sensation, but I feel it more on the skin between my muscles than in the targeted areas themselves. Not bad, but I'm not impressed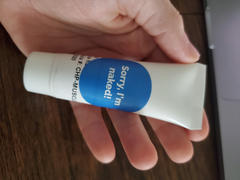 09/13/2020
Jaxzen A.
United States
Actually feels better than icy hot
So I left a really really good review on the chirp wheel that I had (the medium) and then I bought the three pack and gifted my old one to a friend. Since getting the three pack I've used them all every day about three times a day it's the only thing that has really ever fixed my chronic back pain that literally never goes away. After leaving the review, chirp sent me an email asking me to try the new relieviate muscle rub and all I had to pay was shipping. After getting it and trying it (it's on right now) I knew I had to leave a good review. It couldn't go unsaid. As a teenager who has tried everything from miracle products to the basic stuff to try to relieve their chronic back pain, I can say that in all honesty I thought that this would be another icy hot. But right now, my back feels really really good. Comparatively, this is much better. It actually relieves the pain, Whereas icy hot just makes you feel kinda cold and then like it burns. I put some on my dad's back and he also has bad back pain. He just sent me a huge text basically saying he wanted some immediately. I used mine after using all three of my wheels and I can't tell you the difference this line of products makes in regards to my back pain. Also if anyone was wondering they sent me a cool sticker that I'd like to put on my car but I'm not sure if it would stay. Honestly I can say that I'll definitely be buying a tube of this when it gets released. Shipping was quick too. On both the wheels and my sample. From Utah to Charleston, West Virginia it only took 3 days to get here. Anyway that's my review no gimmicks or scams. Just a teen with back pain doing what he can to get the word out about these products. But yeah, definitely a 5 out of 5 or I would say a 9 out of 10. Great product, I will definitely be buying some when it gets released officially!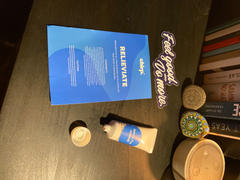 Jaxzen! Thank you for your review! So glad you had a great experience, you and your dad will be the first to know about Relieviate's official release!
You may also find relief with