Raspberry::::#9900b8;;;;Grey::::#9c9c9c;;;;Black::::#000000
Relieviate Muscle Rub Sample - Leave Your Review Below
Relieviate Muscle Rub Sample - Leave Your Review Below
Limited to 1 per customer. A muscle rub containing 9 Essential oils for deep, cooling sensations on the skin. Samples we sent via standard shipping (4-7 business days).
Customer Reviews
Real reviews from real people
Customer Reviews
Write a Review
Ask a Question
Filter Reviews:
Relieviate
pain
muscles
smell
Chirp Wheel
back
lotion
wheels
feeling
Chirp
10/11/2020
Karen H.
United States
Great!
Really helped out. Great product!
09/30/2020
Chrissy H.
United States
Minty fresh relief
I received my Relieviate sample last night, after sitting in front of the laptop all day. While I had taken a break to roll myself out earlier, I still had residual tension in my traps and neck from mousing all day. I opened the package, smiled at the cute "Sorry, I'm *****!" sticker, and immediately used it on my traps and neck which made those muscles happy. Relieviate is a white, light, non-greasy lotion. It absorbs very quickly and dries almost immediately. It smells great - I really like the minty scent. It takes a few moments to start to feel the icy relief, but once it kicks in it feels great (less than 30 seconds for me to start feeling it). Great product - looking forward to using it as needed.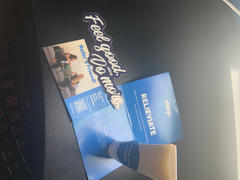 09/29/2020
Ethan M.
United States
Very nice!
I'm happy with this cream. It's more like lotion and not greasy. Smells like wintergreen and not some overwhelming menthol. Also doesn't have that instant burning feeling like some other creams.
09/29/2020
Jen
United States
Great Pain Reliever
I have been using this for my neck and shoulder pain and it really does help.
09/27/2020
Kellen M.
United States
Soothing relief for achey muscles
The muscle rub provides a cool, tingling sensation without being too greasy. The smell of similar products can be overpowering, but I really love the minty aroma of this one - super relaxing! Overall, a great complement to you recovery toolkit!
You may also find relief with